Come visit Israel! 
Leading Italian firms from all sectors are constantly searching for new technologies, partnerships, and investments to enhance their products and services or to disrupt the industry and create new efficiencies.
The Israeli ecosystem provides a unique combination of specialized knowledge, cutting-edge technology, dynamic human capital, and solid capital.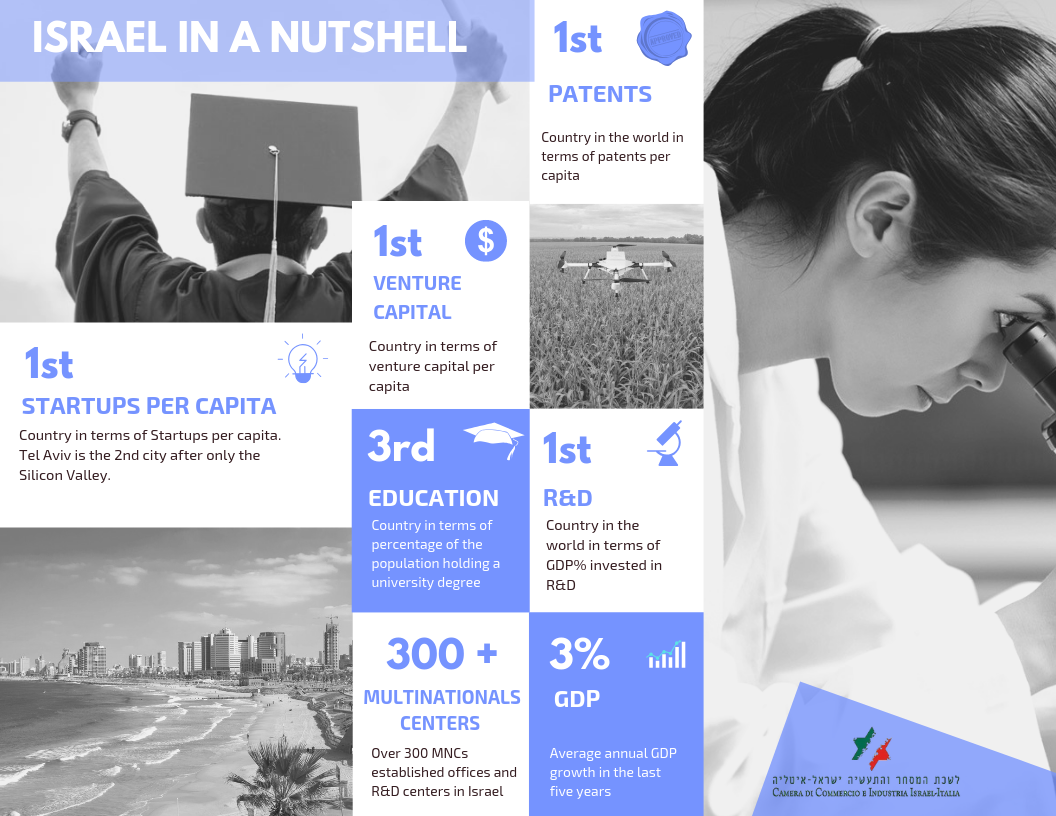 The Israeli ecosystem presents numerous dynamic sub-sectors, with a solid growth, continuous investments and cutting-edge technological innovation.
With over 60 years of experience, the Italy-Israel Chamber of Commerce and Industry is ideally positioned to connect Italian firms with the opportunities that Israel offers. We offer sectoral delegations to gain a comprehensive insight into the most innovative fields of Israel's economy. The programs of the missions are tailor made visits for businesses with the aim of establishing profitable partnerships with Israeli counterparts according to their interests.
The Chamber offers also premium services for single companies with specific technological needs. Companies will be guided towards the innovation that can improve their business significantly. Thanks to its extensive knowledge of the Israeli market, the Chamber can organize a mission in Israel, including visits and BtoB meetings with companies and startups that can provide the requested technological solution. Moreover, the Chamber takes care of all the logistics aspects of the mission, hence offering a comfortable business experience. 
Contact us for further information we will answer shortly!